Philips CorePro LEDtube HF 9W 865 60cm G | Replaces 18W
Sold out. See alternative product
See now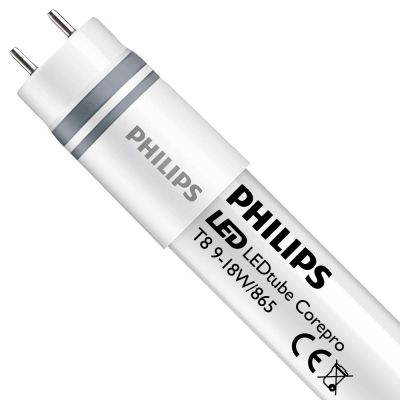 Specifications
Philips CorePro LEDtube HF 9W 865 60cm G | Replaces 18W
Description
Philips CorePro LEDtube HF 9W 865 60cm G | Replaces 18W
The Philips CorePro LEDtube HF 9W 865 60cm G | Replaces 18W belongs to one of the most energy-efficient replacers of the conventional T8 fluorescent tubes. The LED tube is produced by Philips, which ensures you of quality! With a wattage of only 9W, this Philips tube can achieve the same light intensity as the conventional fluorescent T8 tube that needs to use 18W to achieve the same. You will certainly notice this difference in your energy costs.
Advantages of LED
The reduced wattage use is only one of the advantages of LED lighting. The Philips LED fluorescent tube is also very eco-friendly. Where the conventional fluorescent tubes use toxic gases like mercury to make the tube function, this is not the case with the Philips LED tube. Recycling this LED tube at the end of its lifetime is therefore very easy. However, you don't have to worry about this for a long time due to the Philips LED tube lasting an average of 30000 hours.
Good to know
This Philips T8 tube comes with a G13 base. In addition, it has a diameter of 26mm and a length of 60cm. Are you planning on ordering multiple Philips LED tubes? When ordering, 10 are packed in one box. When replacing fluorescent tubes with a conventional ballast, always see if you have the appropriate starter for your LED tube.
What does the Philips Corepro T8 LED tube further offer?
A color rendering of 80-89 Ra
A lifetime of 30000 burning hours
A light color of 6500K - Daylight
An all-in warranty of 3 Years
Reviews
No reviews for this product yet
Need help?
Contact our light specialists for free advice.