Philips LEDtube T5 HO 26W 840 145cm MASTER | Replaces 49W 
Sold out. See alternative product
See now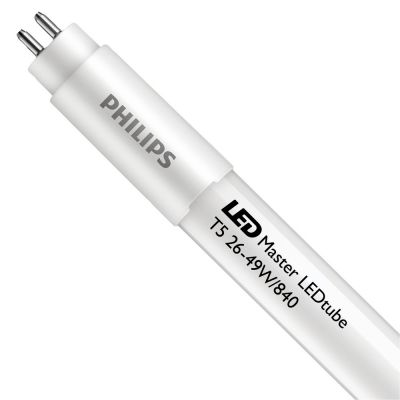 Specifications
Philips LEDtube T5 HO 26W 840 145cm MASTER | Replaces 49W 
Description
Philips LEDtube T5 HO 26W 840 145cm MASTER | Replaces 49W 
With an energy label of A++, the Philips LEDtube T5 HO 26W 840 145cm MASTER | Replaces 49W  is the efficient and eco-friendly solution to the conventional T5 fluorescent tube. By using advanced LED technology, LED fluorescent lighting does not have to use toxic gases like mercury, that are harmful to the environment. By using the Philips LED tube, you are ensured that you do not leave a big ecological footprint. On top of this, the LEDtube tube uses much less energy than the conventional T5 fluorescent tube. Where the conventional T5 tube uses 49W, the Philips LED variant only has to use 26W, without sacrificing light intensity or quality.
The T5 LED tube by Philips is equipped with a G5 base. This means that there is a 5mm distance between the 2 pins. Furthermore, the Philips LED tube has a diameter of 21mm and a length of 145cm. Make sure when choosing a new LED tube to always look at the old wattage - length ratio of the conventional T5 fluorescent tube. These are connected to each other. For the Philips LEDtube LED tube, Budgetlight provides a warranty of 5 Years. Do you have any questions about the Philips T5 LED, or are you interested in a quotation for larger quantities? Don't hesitate to get in touch with us. We are happy to help!

The Philips LEDtube T5 LED tube further offers:
A long lifetime of 50000 burning hours
A light colour of 4000K - Cool White
A warranty of 5 Years
Reviews
No reviews for this product yet
Need help?
Contact our light specialists for free advice.